Dave Boston's
Other Work
- Gallery
- Store
- Contact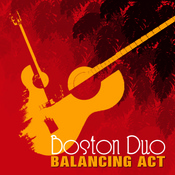 Balancing Act Boston Duo CD Review
David Boston, along with his daughter Naomi has released his first CD since "Puketapu Tracks" in 2000. Calling themselves "Boston Duo", "Balancing Act" features 18 mellow and sophisticated acoustic guitar duets. 10 of the songs are covers: featuring the well known "Mr. Bojangles", "Wonderful Tonight", "Scarborough Fair" and "If" along with lesser known tunes "Into The Dark" by Jesse Cook, "Going Home" By Mark Knoppfler, and "Moonflower" a gem originally recorded by Santana. The pick of the covers however are: "Have You Ever Really Loved A Woman" originally recorded by Bryan Adams, and "Cancion Del Mariachi" from the film "Desperado".

The 8 original tunes however represent the Bostons' true creativity. David has five tunes: "Arrival" starts the album and is alternately rhythmic and sparse. "The Road To Granada" and "Hypnotic" have distinctly Spanish flavours. "Reflections" is a 3 movement piece, while "Yearning" is a slow beautiful ballad. Naomi contributes three songs. Her tunes all originated as vocal tunes but have been arranged here as instrumentals. "Contemplations" is a fast, catchy tune with a calypso flavour. "Control" has a real contempory vibe to it while "Will I Ever" is a slow wistful ballad. Recorded live by Jason Alexander of Naked Gun fame, have a listen to "Balancing Act" its good.